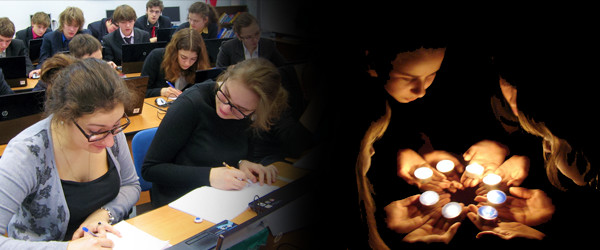 The continuity of the vital STEM program at the de Gunzburg School in the former Soviet Union is imperiled
The near exhaustion of World ORT funds for its Network schools in the former Soviet Union is resulting in a crisis for its STEM (science, technology, engineering and mathematics) initiative in the de Gunzburg School in St. Petersburg, Russia. Without donor support, World ORT will be unable to operate its program in this important flagship school, where the curriculum includes humanistic values and Jewish studies to connect students and families with their heritage.
Over 450 students of all ages attend the de Gunzburg School, chosen by their parents specifically for its quality instruction and substantial Jewish education thanks to World ORT. Without immediate financial support, this school will cease to be part of the World ORT Educational Network, spelling the end of enrollment of Jewish students whose parents are drawn to its academic excellence, important Jewish content, individualized and project-based learning, collaborative projects, international connections, and family involvement. But your gift of $1,100 can help save this STEM program by supporting a student for two years.
The de Gunzburg School has had a key role in St. Petersburg since it opened in 1993, shortly after the fall of the Soviet Union. Thanks to World ORT involvement and its robust curriculum of secular and Jewish subjects, the school has reconnected many eager students in the area with their Jewish lineage and traditions, and has been an outstanding foundation for higher education and future career planning.
Your help will enable the de Gunzburg School to maintain the World ORT presence and forge ahead with the STEM program, adding tremendous educational value to the St. Petersburg Jewish population and protecting Jewish identity and culture. Please show your solidarity with this community and give today to this very worthwhile campaign.
---
"I've got a very tempting offer to study in Technion in Israel. I'm glad I've got the necessary knowledge and skills that will be of help in my future career. English helps me write programs and two years of coding studies at our school is a solid basis for entering a robotics faculty at one of the leading universities."
- Yegor Vasyukov, a student in the de Gunzburg School
---
Frequently Asked Questions
Who is served?
The community served by the de Gunzburg school is comprised of Jewish families ranking from the low end to the middle on the socio-economic spectrum. There are 457 students ages 6 to 17, and 55 teachers and specialists.
What is taught in the Jewish portion of the curriculum at the de Gunzburg School?
Hebrew, with instruction by Israeli teachers, Jewish traditions, Jewish history and Jewish literature. The most successful students have the opportunity to participate in internships at the Weizmann Institute in Israel.
What is the funding background for the sixteen day schools comprising the Educational Network in the former Soviet Union?
An in-depth study of science and technology has been the focus of a chain of funding campaigns over the years, with each campaign designed as a general approach and as an individual project for each of the schools. Each project has had a four-year duration, funded by joint efforts of World ORT, ORT America, ORT UK, ORT Switzerland, and others. The last project, QUEST, was launched in 2011-13.
A donor who has pledged $2.5 million support for the World ORT Kiev, Kishinev and Vilnius schools is making his gift contingent on securing funding for the entire network of sixteen schools, all of which are secular, inclusive, free of charge and enroll students according to local regulations and the Israeli Law of Return. This donor provided 60% of the funds for QUEST.
What is important about the de Gunzburg School?
The premier institution of the Educational Network in the former Soviet Union, it has a record of academic excellence. As the World ORT budget for the de Gunzburg school will be depleted this autumn, this institution takes priority for funding.
What happens if the World ORT STEM program is not launched as planned?
The World ORT mission is to develop and sustain its network as a competitive cluster of schools of choice for thousands of Jewish families, many of whom would not otherwise be familiar with and take part in Jewish aspects of life.
The sixteen schools in the Educational Network will continue to operate as state institutions funded by state budgets for compulsory costs such as salaries, utilities and building maintenance. But STEM and Jewish curriculum instruction and Jewish activities will soon cease, resulting in a lack of demand by the Jewish population, many members of which rely on the unique blend of outstanding secular studies and the Jewish culture component as a way of advancing a high level of education and traditions across generations.
How does my gift make a difference?
Your gift will help us reach our goal of $450,000 for the STEM program in the de Gunzburg school, and will give Jewish students a chance to further their education, strengthen their Jewish ties and become contributing members of the Jewish community. It will also help fortify the World ORT Educational Network in the former Soviet Union.
Donate:
Find a Participant or Team:
Participate:
Top Donors
Mrs. Lois Dermer
Ms. Susan R. Clayman
Martin Greenberg
Mrs. Elaine Bernstein
Ms. Rochelle 'Shelley' Dube